was at the Beer Mecca this weekend and happened across Monty Python's Holy Grail Ale.
It is a good, B grade beer. Nothing special, was drinkable and the label was funny. One thing that this image doesn't show is that the beer is "tempered over burning witches."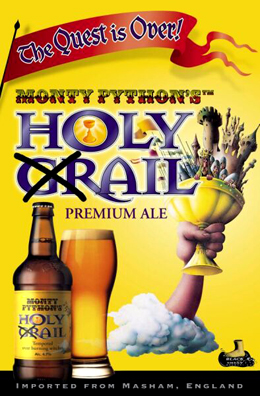 Another review:
Quote:
I can assure you that after your first swallow (unladen, of course), this fine example of a traditional English pale ale will cast its richly malty and pleasantly bitter spell on your palate. The ale's strong roasted malt flavors impart a caramel-like sweetness to the brew, and the slightly fruity hop flavors cut through the sweetness to create a rounded, even finish. The bitterness does not pack a hop wallop, however.
If you find this on the shelf, buy a six and enjoy!