Lohan gets 90 days in jail

(Link)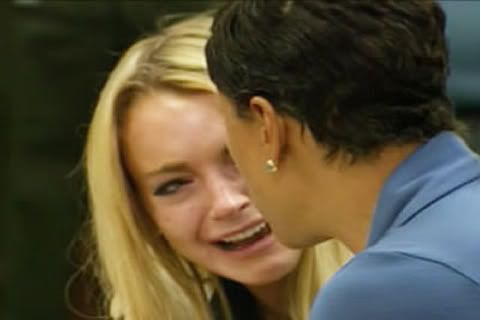 Lindsay Lohan tearfully begged the judge
for forgiveness.
Lindsay Lohan has been sentenced to 90 days in jail after a Beverly Hills judge ruled that she had violated her probation by missing a string of alcohol education classes imposed for a 2007 drink-driving arrest.
Beverly Hills Superior Court Judge Marsha Revel ordered the Mean Girls movie star to report for jail on July 20.
She also ordered Lohan to attend a 90-day residential substance abuse program once she had completed her sentence.
Lohan, 24, sobbed bitterly on hearing the sentence.
Earlier she had tearfully begged the judge for forgiveness, saying she was taking her alcohol education classes seriously.
"I am not taking this as a joke. This is my life. It is my career. It is something I have worked for all my life," Lohan said.
"I did the best I could to balance jobs and showing up.
"I was working ... I was working with children. I wasn't taking it as a joke ... I wanted to come back and make you happy."
The court heard that Lohan had missed seven alcohol education classes over a period of 27 weeks and had not attended once a week, as instructed by the judge.
"I couldn't have been more clear - and it wasn't done," said Judge Revel before sentencing.
The hearing stemmed from a 2007 drink-driving and cocaine arrest. Lohan spent 84 minutes in jail that year as part of her sentence and was given three years probation.
Lohan found fame as an 11-year-old in The Parent Trap and was considered one of Hollywood's most talented young actresses. But in recent years, her hard-partying ways have proved steady fodder for celebrity gossip sites.
Her career - at its height during 2003 and 2004 when movies Freaky Friday and Mean Girls were released - has gone rapidly downhill.
- Reuters
This is good.
Being a star should not mean you get pampered when you fuck up.
Way to set an example.